Modern Designer Kitchen in Chatswood
The modern designer kitchen has become a must-have feature in today's homes. With the increase in popularity of cooking shows and the emergence of social media influencers promoting home-cooked meals, the kitchen has transformed from simply being a functional space to a hub of activity and a centrepiece of the design. A well-designed modern kitchen not only adds value to your home but also enhances the cooking and dining experience. From sleek and minimalist design to rustic and cozy farmhouse styles, a designer kitchen can be tailored to your personal taste and needs. It's no wonder that homeowners are investing more in their kitchens. After all, the kitchen is the heart of the home.

Our Kitchen Installation Services
At Sydney Style Kitchen, we have a team of experienced professionals who can take care of all your kitchen installation needs. We offer a range of services tailored to meet the individual needs of our customers.
Our expert team has years of experience in installing all types and styles of kitchen cabinets, countertops, appliances and fixtures. Whether you need help with the design and layout or just a straightforward install, our team can handle it all.
We also offer a range of kitchen remodelling services. From designing the layout to renovating existing cabinets and fixtures, we have the expertise to get the job done quickly and effectively. We use only the latest technologies and materials to ensure that your kitchen in Chatswood looks stunning for years to come.
If you're looking for a professional and reliable kitchen in Chatswood, then look no further than Sydney Style Kitchen. Our highly skilled team are always on hand to provide advice and guidance so you can be sure that your project is completed with the highest standards of quality.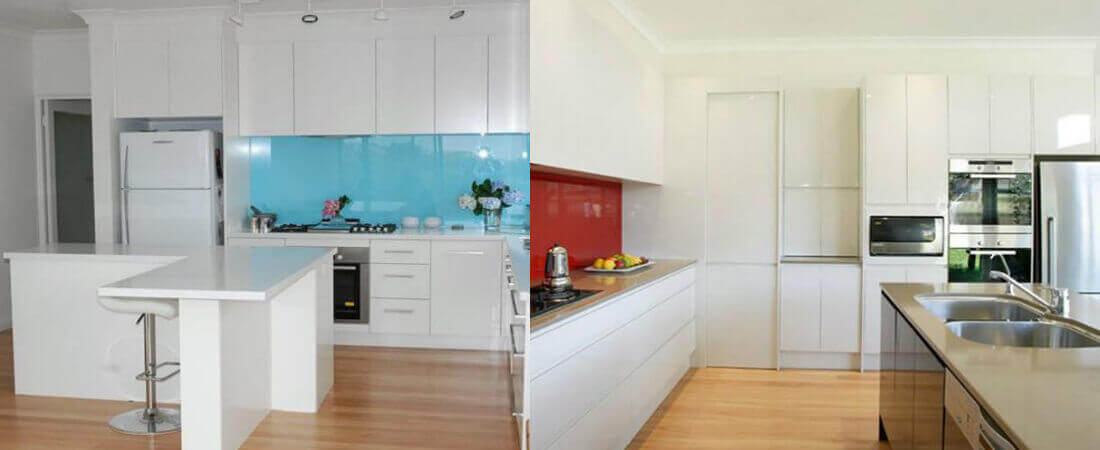 Outline of the Kitchen Installation Process
Installing a brand-new kitchen is a great way to upgrade your home and add value to it. It's also an involved process, requiring plenty of preparation and planning in order to get everything done correctly. Here's an outline of what you can expect when installing a new kitchen.
Establish Your Budget: The first step is to figure out how much you're going to spend on your kitchen renovation. This will determine the type of materials and appliances you'll be able to invest in, and will help keep costs low while ensuring that the end result looks great.
Choose Your Materials: Once you have a clear budget in place, it's time to choose the materials and fixtures for your kitchen. This includes cabinetry, countertop materials, flooring, fixtures and appliances. Consider both cost and quality when making decisions.
Hire a Professional: Installing a new kitchen is not something you should attempt as a DIY project — it's best to leave it to an experienced professional who has experience in kitchen installation. Make sure you get quotes from at least three contractors and read their reviews before making your decision.
Prepare the Space: You'll need to clean out the existing kitchen and remove all furniture, appliances, and other items. This will allow the contractor to begin work on installing the new kitchen more easily.
Install Cabinets & Counters: Once your space is ready, the contractor will begin installing cabinets and countertops. They'll need to measure precisely in order to ensure everything fits properly.
Install Appliances: Once the cabinetry is installed, it's time to install new appliances. This may include a refrigerator, dishwasher, stovetop or other large appliances. Make sure they are securely and correctly connected to power sources.
Finish Up & Enjoy: Once all of the components are in place, your new kitchen is finally ready to be enjoyed! Your contractor will do a final check to make sure everything is working properly before they leave.
Installing a brand-new kitchen can be an exciting and rewarding experience — just make sure you come prepared with a plan and budget in order to get the best results. With the right preparation and knowledge, you'll be able to enjoy your new kitchen for years to come.

Kitchen Renovations in Chatswood: Transform Your Space into a Culinary Haven
Kitchen renovations in Chatswood can be an exciting and daunting task. The kitchen is the heart of any home and renovating it can completely change the way you use and enjoy the space. Whether you're looking to update appliances, create a more functional layout, or simply refresh the style of the space, there are endless possibilities when it comes to kitchen renovations. And while the idea of tearing out cabinets and gutting the room may seem intimidating, the end result of a beautifully renovated kitchen makes it all worth it. So if you're ready to take on a kitchen renovation project, just remember to plan thoroughly, set a realistic budget, and enlist the help of professionals if needed. The end result is sure to bring joy and satisfaction to your daily life.
Read More
Kitchen Renovations in Chatswood
Chatswood is a residential and business district in Sydney. If you have a house in Chatswood and want to renovate your kitchen, seek help from the professional kitchen teams nearby. You can renovate your kitchen Chatswood easily with the help of professional builders. They will assist you from the start so that you can build the kitchen of your dreams.
Since Chatswood is a residential area, many people look for kitchen teams who can change their kitchens according to the recent trends. One should invest in levelling the kitchen by making changes after a certain point to reduce boredom. It is important to choose the right professional team to do the job. Otherwise, the renovations can be a burden.
Adding New Look to Your Kitchen in Chatswood
To give a new look to your kitchen Chatswood, you can add a few items to elevate the look. Renovating the entire kitchen is unnecessary to make your house look fresh. However, that depends on your kitchen style. If your kitchen is too old, it will need a significant change that goes well with the modern trends. A professional kitchen team can help you to decide whether your kitchen needs a complete renovation or not. If your kitchen in Chatswood is modern and needs only a few changes, here are a few ways by which you can elevate the look:
You can only change the cabinets in your kitchen by giving them a different colour or changing the design by looking at contemporary styles.

You may add an island table to help you relax or work in your kitchen.

You can change the kitchen tiles because that will give it a fresh look.
These small changes are going to amp up your kitchen Chatswood. Take the help of professional kitchen teams to see if more changes can be made to your kitchen. Add small elements to your kitchen to make it look aesthetic.
Free Quotes
As qualified kitchen chatswood builders and suppliers, we service all client types; residential and commercial and can design a kitchen to suit any budget. Talk to the team at Sydney Style Kitchens to request a free quote or learn more about our kitchen chatswood renovations, installations and custom design solutions.
Australian-Made Products
All Sydney Style Kitchens products and kitchen materials are sourced and made locally from the highest quality, moisture-resistant materials available in Australia. We deliver and install all types of kitchens designs and finishes plus all appliances and accessories.
7 Year Warranty On Our Kitchen Installations
Installing a new kitchen chatswood it most certainly is no easy task. The kitchen holds the reputation for being one of the most difficult and expensive rooms to renovate as it contains a variety of large appliances, white goods and utilities all in a concentrated area.
The team at Sydney Style Kitchens is highly experienced in kitchen renovations and creating and installing all types of modern kitchens. We pride ourselves on our premium workmanship and customer service and offer a 7 Year Warranty on cabinet joinery and 10 Year Warranty on stone bench tops.
For enquiries or a free quote on our kitchen installations, contact us or fill out our online form. Including your prospective budget and any design, specifications will help us to provide a more accurate figure.
Budget Kitchen Projects
This does not mean that a budget kitchen installation is impossible. Our professional team of kitchen experts can assist you in sourcing quality, budget options for a smaller, more affordable kitchen renovation.
Sydney Style Kitchens can remove your old cheap kitchen, discuss your budget and design options with you, provide you with appropriate replacement options and finally supply and install a new design at a competitive cost for your Chatswood property.
Custom Made Kitchen Chatswood
The most stunning and engaging kitchens in Sydney are not just beautiful to gaze upon; they are made from the best materials and products, all designed and created to guarantee two things: long-lasting durability and premium functionality. We focus on providing custom made kitchens that fulfil this aim, every time.
Our team can fully supply your kitchen Chatswood property with all new kitchen products, including all of the following.
Doors
Benchtops, including Caesar stone and quantum quartz benchtops
Sinks and taps
Handles
Splashbacks
Soft close hinges, runners, pullout pantry and all accessories
And many more
We can assist you in exploring your options from scratch, or even build your kitchen from products and appliances bought elsewhere, like Bunnings Kitchens and high-quality brands like Westinghouse.
We work with you to create the best kitchen packages suitable for your needs. After all, a kitchen, like any other property feature, needs to reflect the needs of its user, not just what is considered trendy at the time.
Contact Us | Sydney Style Kitchens
To learn more about our services available in Chatswood and how we can help you renovate or design your ideal, custom made kitchens get in touch with our friendly team at Sydney Style Kitchens.
In addition to providing our unique and custom-made kitchens to clients in all suburbs of Sydney, Kitchen Pymble, Kitchens Rouse Hill, and Kitchens Ryde, we offer superior kitchen builders and solution providers.
Flat Pack Kitchens
Have a hand in installing your kitchen into your home with our flat pack kitchens service. We bring together your designs and products, and then provide you with simple instructions to install them in your home.
Kitchen Renovations
We can renovate your kitchen into something that you can truly be proud of. Our skills and abilities are endless and we can focus on your needs during this process.
Custom Made Kitchens
Don't waste around with already-designed kitchens, when you have the chance to create your own kitchen with our custom made service. The highest quality products for you.
Kitchen Installations
With our years of experience, we can effectively and efficiently install your kitchen into your Chatswood home.